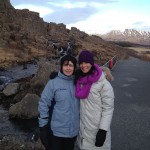 Iceland's Northern Lights – check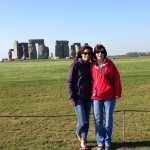 England's Stonehenge – check
Peru's Machu Picchu – check
For the past three years I have dragged my mom all over the world and I can now check off another world wonder and the latest one is by far our favorite. Machu Picchu is simply magical. We spent a week exploring the beautiful country of Peru. Starting in Lima, ending in Machu Picchu and the buildup didn't disappoint.
We knew that Machu Picchu was going to be amazing but we didn't know what to expect from Lima, Cusco, and the Scared Valley. Because I get my sense of adventure and love of history from my mom, exploring is what we love to do. And that includes lots of walking, lots of tours, and lots of questions.
Our first city was Lima and we spent two full days learning the history and sightseeing. Miraflores was our favorite part. It sits right above the Pacific Ocean.
During one of our tours, we stopped by the Main Square, where we checked out the Government Palace, City Hall, the Cathedral and the Archbishop's Palace. My mother really wanted to see the world's largest water fountain park and so I agreed.  I must say it was pretty cool, for an hour 🙂
After Lima we flew to Cusco and were warned about the altitude (Cusco is at 11,152 feet). I was concerned for my mom, she gets motion sickness very easily. However, she was fine. It was me who had the problem! Needless to say our first day there I was hurting. But after drinking coca tea (the natives swear by it) and lots of water I was ok.
Cusco, also known as the Capital of the Inca Empire was pretty spectacular.  Our tour guide RoseMary, of Inca descent, was not only knowledgeable but passionate about her ancestors. We were lucky because she was with us for two straight days. We were able to visit the Santo Domingo Convent, which was built over the Koricancha, an ancient Inca palace and main worship center of the Sun God. One of my favorite parts of Cusco was the Sacsayhuaman Fortress. It showed how advanced the Inca architects were. They were way ahead of their time.
From Cusco we then drove to the Scared Valley of the Incas. It was a 2 and 1/2 hour drive and the views of the Andes was breathtaking.  We stopped at the market of Pisac, where we interacted with the local craftsmen. I'm not a very good barterer but I was much better than my mom. I would have to say the most impressive part of our 8 hour tour was our final stop of the day, Ollantaytambo.
This town of Inca origin has the remains of the only Inca Fortress that allowed Incan troops to defeat the spanish conquistadores.
Our next day was the day we had waited for, Machu Picchu. Early that morning we boarded the Expedition Train for our 2 ­hour journey. The final destination was Aguas Calientes, the little town with an elevation of 6,700 feet, located at the bottom of MachuPicchu Mountain. We were met by our tour guide, Wiliams and to our luck it was just me and my mom in the group! We then took a 20 minute bus ride to the top of the mountain. After the winding ride we were at the entrance to this an awe­inspiring sight, MachuPicchu. I can't say enough about this city in the clouds.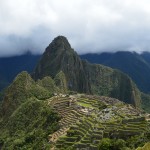 It was an unforgettable experience. Wiliams, who's ancestors were of Inca nobility was fascinating. The history surrounding this mysterious and charming place is amazing. Machu Picchu was built by Inca ruler Pachacuti and it served as a government palace and administrative center. (I could go on and on about the history but don't want to bore you!)
After our personal 4 hour tour in the blazing heat (we were told to dress in layers, it's the rainy season so except rain – it never rained once! Rather it was 80 degrees!) we decided to eat lunch on the mountain so we could hike to the Sun Gate. It was a 50 minute hike to the final stop on the Inca trail before you reached MachuPicchu. It was a tough hike but the views were quite out of this world. My pictures don't do it justice.
This trip was one of the best I've ever taken and sharing it with my mom made it even better. What should be the next world wonder my mom and I check out?