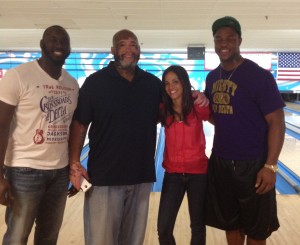 It's no secret I am a big fan of the Jets defensive line. It began two years ago with Sione Pouha and Mike DeVito and now it has carried over to Mo Wilkerson and Quinton Coples. Of course their coach, Karl Dunbar only adds to my affections.
Recently, I had the opportunity to go bowling with Mo, "Q", and Coach Dunbar and I had a blast. What a day! I have done several stories with Mo in the past so I knew his laid back demeanor.  Spend one minute with Coach Dunbar and you realize he is full of fun and laughs.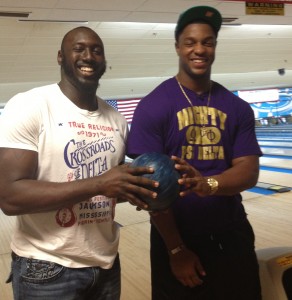 As for Q, I didn't know what to expect. I soon discovered he was the class clown, the "cut up" of the group. I don't think I laughed more at any of my other stories.
I'm excited to watch Mo and Q on the field this season. I expect big things for these guys especially with Coach Dunbar leading the way.