Working Out with Cro and Wilson
I recently had the opportunity to watch Antonio Cromartie and Kyle Wilson work out together. These two defensive backs are spending this offseason building a relationship they hope will translate to success on the field. I was impressed by the leadership and maturity displayed by Cromartie. You can tell he wants to be the person leading this secondary; now Darrelle Revis is no longer part of.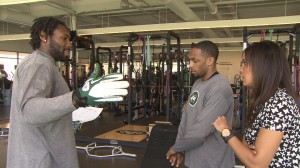 It was a lot of fun watching the two push each other, challenge each other and of course tease one an other. Cro is quite the character and loves to talk. But when it comes to winning he is always focused. I was surprised on just HOW competitive these two were. Everything was a competition and I thought I was competitive.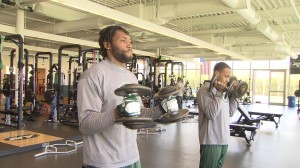 Cro, who made it a point to tell me he was 29, which is ancient in football years (a young kid, in the mind of this 30+ person 🙂 ) insists he could still beat these "youngins."  I asked Kyle if the "old head" still got it…he said with a smile "yeah, he still got it but he is old."

I enjoyed my time with Cro and Wilson and seeing their dedication and determination..it's hard to root against them.